Hello friends… if you belong to any workplace you may be aware about this term "letter of recommendation" which is commonly known as letter of reference. A letter of recommendation is a document in which the writer introduces the qualities, characteristics, and capabilities of the person being recommended in terms of the ability of that person to perform in any task given to him/her. This letter of recommendation can be given in any stage from academics to employment. If we look at the different types of letter recommendations are following.
Academic Recommendation letter
Employment Recommendation letter
Character and Personal Reference letters
Student Recommendation letter
Letter Of Recommendation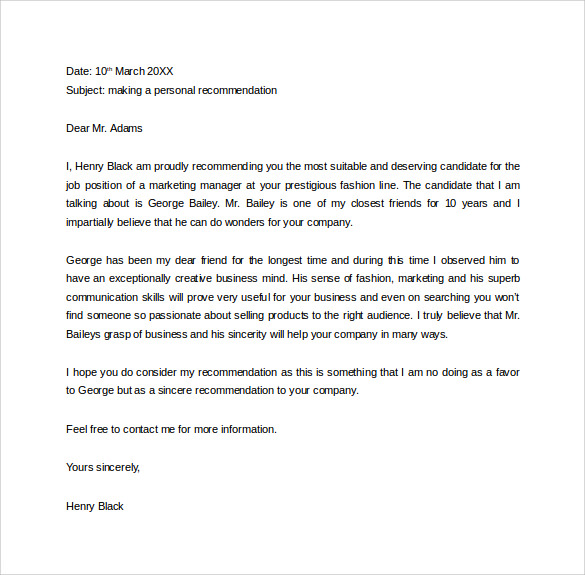 Dear Mr./ Mrs./ Ms. [Last Name]
It's my absolute pleasure to recommend [Name of Person] for [Position of Person] with [Name of Company].[Name of Person] and I [Relationship] at [Company] for [time period].I thoroughly enjoyed my time working with [Name of Person], and came to know [him/her] as a truly valuable asset to absolutely any team. [He/She] is honest dependable and incredibly diligent towards [his/her] work. Beyond that, [He/She] is having an impressive [soft skill] who is always [result]. [His/Her] knowledge of [specific subject] and expertize in [specific subject] is a huge advantage to our entire office. [He/She] put this skillset to work in order to [specify achievement]. Without doubt, I confidently recommend [Name of Person] to join your team at [company]. As a dedicated and knowledgeable employee, I know [He/She] will be a beneficial addition to your organization. Please feel  free to contact me at [at your contact information] should you like to discuss [Name of person] qualification and experience further.
Sample of Letter Of Recommendation
So if you are going to write a letter recommendation no doubt it will be very challenging for you but if you keep some important things in mind during letter writing you can create perfect one.  So to make it more effective you can write the requirements of that particular job and don't forget to collect the information from the curriculum vitae before you begin composing your letter. In the body of the letter must contains the skills, qualities and strength of the person. In the closing of the letter end it with the positive statement.
Letter Of Recommendation Format
You can also share your contact number and email address in the end. Here for you we are providing you the letter of recommendation template which will help you in letter writing. So first just have a quick look at the basic template which you can use to create letter of recommendation.
So we hope you like Recommendation Letter post this time also comment and share our post on Facebook, Twitter and Google+ with your friends.